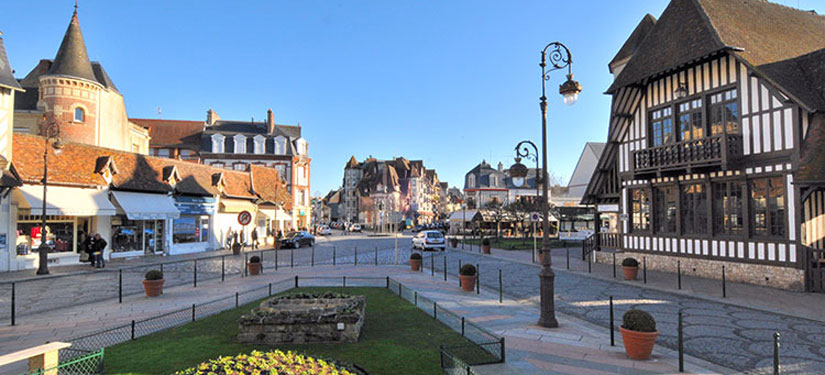 DEAUVILLE: PARIS ON SEA
The resort to high-end reputation still retains a beautiful Parisian popular with buyers seeking second homes.
Inventory.
Coastal city bathed by the English Channel at the mouth of the Touques, Deauville is a must-see destination, chic and unique charm that has inspired many artists and intellectuals Gustave Flaubert to Sacha Guitry through Van Dongen. Its name evokes its famous planks, its casino, luxury hotels, its racecourse, its golf course and its town hall. Synonymous with luxury and elegance, she is a credit to its international reputation by hosting several major events: the American film festivals, the Asian film, international conferences, horse racing and gala evenings. Just two hours by train from Paris Saint-Lazare, it attracts many Parisians or seniors looking for a second home or a foothold. Whether for a simple weekend or for a longer period, they can enjoy the pleasures of the many activities of this seaside resort: thalassotherapy, tennis, horse riding, sailing, golf ... Desiring to do everything on foot, they prefer the city center and two and three bedroom apartments in Haussmann buildings 4 500-5 000 / m². Near the sea, prices rise up to 10 000 euros / m² for luxury residences and over 800 000 for the houses of Anglo-Norman style. We must explore nearby racetrack to find houses 100-150 sqm less than 600,000 euros. The remaining high property prices, first-time buyers in the region youth have no choice but to go into exile in surrounding towns such Touques, Saint-Arnoult or Pont-Eveque to find the gem. It is not for nothing that Deauville is known as the 21st arrondissement of Paris!
Culture for all.
Rather than building new equipment, the municipality of Deauville chose to rehabilitate the 4800 m² of buildings of the former Congregation of Franciscan Sisters to make a new cultural center. This convent will be a place of meeting and sharing for all. Indeed, this great project will bring together residents, tourists, secondary residents, young and old around the cultural identity of Deauville through an innovative concept fusing different spaces and services: museum, library, toy library, coffee, intergenerational living spaces , teleworking, learning, exchange and sharing. This new center of attraction which will be launched in 2016 is part of a sustainable vision for the preservation of a unique heritage while being a crossroads of encounters with economic benefits for Deauville and its territory.
© Logic-Immo - published on Barnes Deauville on 25/08/2015
Read this article in its integrality by clicking on the following link:
http://www.logic-immo.com/actus-immobilier/2014/11/28/deauville-paris-sur-m...